Course details:
Positive Language For Business

PREMIUM
This course is for everyone - from frontline to executive. It's designed to help you think and act positive and to change the way people around you see you. A great course for all and includes a chalenge - an assignment to help everyone practice being positive.
Training Details:
Price: $14.95
Duration: 1 Hour
Type: Personal Training
Available: Online only
Case Study Required: Yes
Course Contents:
Positive Language For Business - Duration: 08:46 Minutes.
Want to know how to sound positive and upbeat? Want people to like you? We share details on positive language for business to help you stand out!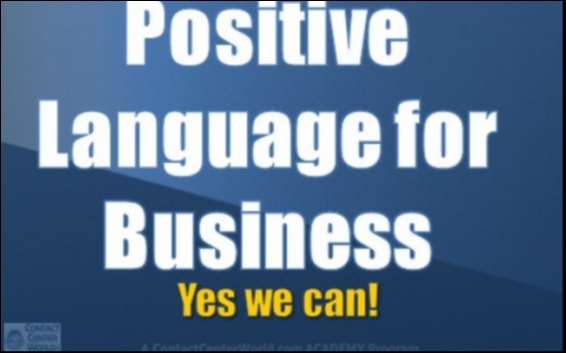 REGISTER PREMIUM COURSE FOR ONLY $14.95
OR GET UNLIMITED ACCESS!
Now you can subscribe for a 1 year unlimited access to all training available in The Learning Academy.
BUY UNLIMITED ACCESS FOR 1 YEAR FOR ONLY $149.95
Looking to train a team or your entire company?
Check the options for discount group licences– massive discounts available – see below
| No. of Annual User Licenses | Annual Fee | |
| --- | --- | --- |
| 6 - 10 | $ 995.95 | BUY |
| 11 - 25 | $ 1795.95 | BUY |
| 26 - 50 | $ 2995.95 | BUY |
| 51 - 100 | $ 3995.95 | BUY |
| 101 - 250 | $ 4995.95 | BUY |
| 251+ | $ 5995.95 | BUY |